ISW type inline centrifugal pump
model introduction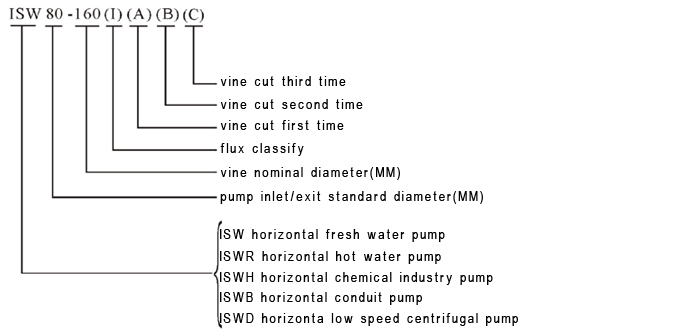 conditions
1.Inhalational pressure

1.6MPa,, the max work pressure

1.6MPa, viz., Inhalational pressure + pump lift

1.6MPa, pump static test pressure is 2.5MPa, please not the system work pressure when place orders. When pump system work pressure is higher than 1.6MPa, please note in advance, in order to adopt cast steel material when make the current parts and link parts.
2.

Environment temperature
40
£¬

relative humidity
95%.
3.

the solid granule cubage content in conveyed medium is less than 0.1%, granularity
0.2mm
.
Note: if the conveyed medium contains thin granule, please give clear indication when order so that the factory adopts wearable mechanism seal.

purpose
1.ISW horizontal fresh water pump is used in conveying the fresh water or other liquids whose physical chemical characters are similar with the fresh water, widely used in industry and city drainage, booster and water supply in high building, garden irrigation, fire fighting booster, long distance feeding, heating and cooling circulation equipments, work temperature

80
.
2.ISWR horizontal hot water pump widely used in metallurgy chemical industry, weaving, paper making and boiler hot water booster circulation in hotels and restaurants and city heating system, work temperature

120
.
3.ISWH horizontal chemical industry pump conveys the caustic liquids which contains no solid granule and whose glutinosity is similar with water, used in petroleum, chemical industry, metallurgy, power, paper making, food pharmacy and synthetic fibre, etc. work temperature is -20
~+120
.
4.ISWB horizontal conduit pump conveys oil products such as gas, coal oil, engine oil, or the flammable, explosive liquid, the conveyed medium temperature is -20
~+120
.

product characters
Run placidly: the absolute concentricity of the pump axle and the excellent movement balance of the impeller, guarantee run placidly without liberation.




Without leakage: horniness alloy seal of different materials make sure different mediums pass without leakage.




Low noise: two low noise bearings support the water pump, run placidly, without noise except the light sound of the motor.




Low failure: simple and reasonable structure, key parts adopt the international topping accessories, extremely prolong the work time without failure.




Convenient to service: change seals, bearings easily and conveniently.


The occupation of land is saved even more: Export can left , right , three directions upwards.

Table picture of the shape